"We had the pleasure of having our firm's holiday party at Outer Space Wines. Dan was incredibly responsive and great to work with. He answered all of my questions, preemptively told me about anything my group would need to know, and worked with me to ensure that every aspect of the party would meet the preferences of our group. Outer Space is a wildly cool venue, offering a fresh look at what Napa tasting rooms can be like, while not sacrificing quality in the wines. Dan and his team were knowledgeable but not conceited about the wines they serve, and we all felt welcomed by the crew.  You really get the opportunity to customize your event to what suits your group best. I would wholeheartedly recommend hosting your next event with Outer Space Wines."
Alyssa S, Gartner Company, December 2022 
Book your event with us. We personalize. We customize.
Sure those big corporate hotels and wineries can do you right with their big service staff and unlimited resources. But can they make your event, your gathering, your party truly unique? We can! Choose your wines from our selection of wines from near and far, have us create a wine theme, pair it with food prepared by our sister business, Frankie's Market. Want some wine education? You got it. Want to just hang out without any "wine talk?" You can do that. We'll make sure your event in Outer Space is full of good wine and good food presented just the way you want it. Call Dan on the Wine Hotline (707) 657-7401 or use the Get In Touch button to discuss. Below are six great reasons to book your event in Outer Space.
Customized Wine Selection
Pretty much anything is possible for your wine tasting. Napa Cab tasting, Sauvignon Blancs from around the world, taste tour of France. Talk to Dan about creating a one-of-a-kind wine tasting.
Wine Education
Does your group want a wine lesson? We can give you as much or as little wine-knowledge as you'd like. Dan knows how to "break it down" and make it fun, or make it more serious...but we prefer the fun way.
We accomodate 15 to 50
We have seating for 20 inside and 16 outside when the weather's right. Our standing bar and bar tables accomodate 10-15 standing. The maximum limit for your event depends what you want to do. We'll work that out in the planning process.
Food & Wine Pairing
We are connected, literally and figuratively, to Frankie's Fine Foods and their selection of cheese & charcuterie plates, pizzas and more. Dan will help you choose the right "bites" to make your event shine.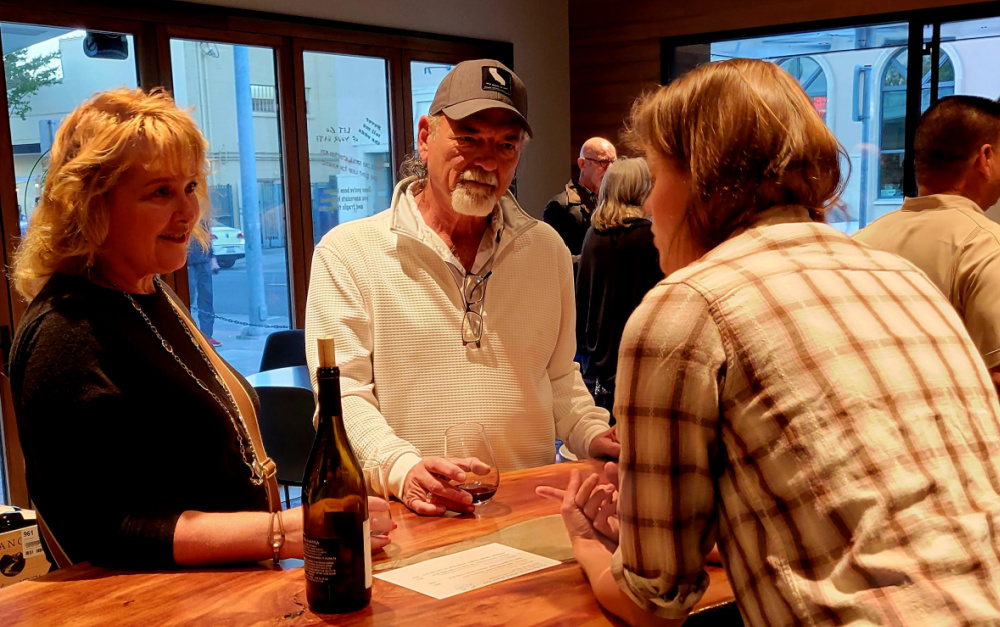 Flexibility
We think this is what differentiates us. You can have your event any way you want! We'll lecture about the wines. Or not. We'll serve food to pair with the wines. Or not. Since we're small we are more flexible.
Centrally located in Downtown Napa
On Franklin Street between First & Second, Outer Space is easy walking distance to everything that Downtown Napa has to offer. Hotels, restaurants, music venues.